15th Oct 2015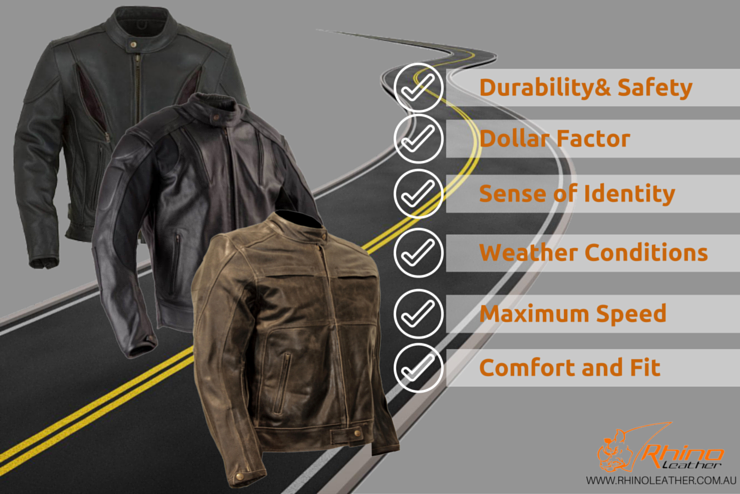 It's one of the most common dilemmas among riders. And it goes on and on. In the end there is no right choice for all, but rather a right choice for each rider. Choosing which material suits your outdoor escapades is a decision any rider would have to make at one point in their lives. You already know you need a jacket. Out there you have to have one that gives you protection and comfort at the same time. That's what makes the choice personal. You want your jacket to fit your own sense of identity and riding requirements and the type of bike you own. If you're having trouble deciding, here are the few things you need to consider. Let us help you weigh the pros and cons of each material:
Durability& Safety
The most important thing is your Safety when you come off the bike. Having a motorcycle jacket with CE approved armour in the holders; elbows and back will go a long way towards making sure you minimize any injury in case you take a tumble
With textile jackets may comes undone on the first impact. Meaning it will protect during the crash, but you will probably need to replace if is badly damaged. Leather is more durable. You may get a few scratches here and there, but after a minor crash, if you apply proper post impact care, leather jackets will last longer. You may pay more up front, but in the end you will actually save money because it's a one- time purchase rather than buying multiple textile jackets all throughout your riding lifetime.
Leather is always the first choice if you have protection as top priority. It serves as a cushion during impacts and abrasion resistant. Textile jacket can give protection as well but not at the same level that leather can. While textile material makers have been pushing for advancement and better designs , leather is still the top material for safety. When buying leather, watch out for its thickness. For maximum protection, leather should be at least 1.2 mm thick. There are many low quality variants for leather jackets that are usually worn as a fashion item. Be sure to select proper motorcycle leather, and not the cheap knock-off you will easily find at any local shops.
Dollar Factor
Ideally, it would be great to have a different jacket for different situations. But that would create a huge dent on your wallet. Most of us can't afford to have leather jacket or textile jacket for every occasion. We need a jacket that can adapt to all our needs. The general observation is that textile will always be cheaper than leather. They come in high and low quality variation. But both will give you value in terms of safety. Generally, you get the quality you pay for but in some cases you are paying 100% more for a brand name rather than safety features. Make sure you check the quality of textile used (ie600 Denier Cordura) or thickness Leather (1.2mm + leather). Best not to go for ultra soft sheep skin or Analine jacket as they will disintegrate the first time you hit the gravel. Buffalo or cowhide is best..
Sense of Identity
Your jacket represents your individuality. Choose the jacket that fits your style, and has the features you need. If you're going for the vintage and classic appearance, leather would be the top choice. For a modern and more urban style, textile is the way to go. Both materials are available in different colors with reflective patches for high visibility.
Weather Conditions
Textile jackets offer better ventilation than most leather jackets. Though some offer perforated designs and venting zips under extreme heat leather doesn't give you the same level of comfort as textile can. It is heavy by nature and not always practical for summer. Though leather can work better in the cold as it has the added feature of keeping you warm. Textile would usually require an added layer. Under the rain, leather can get soaked and will need couple of days to dry out.
Comfort and Fit
A snug fit is always best. Leather jackets wrap closer to your body than most textile jackets. This helps keep the armour in place which comes really handy in the event of a crash. Leather also has a softer material which gives you an added comfortable experience. Textile jackets are usually bulkier but lighter. Because of that, textile offers better flexibility than leather.
Maximum Speed
Your average speed could settle the leather versus textile jacket debate. The faster you go, the more we recommend leather. Textile jackets are work well for commuters while leather is better for performance and weekend riding. It comes down to your riding logistic requirements. What you want and need your jacket for. Leather jackets cut the wind better, keeping you warm enough at great speed and distance. Textile jackets work really well on daily commutes or extreme sports riding. For the most part, any motorcycle jacket you purchase will be a compromise. You have to create a hierarchy of features that are most or least important for you. In order to be comfortable, there are corresponding trade offs for each.
Find the most affordable prices on the perfect motorcycle jacket with RhinoLeather. Check out our latest selection oftextile motorcycle jackets and leather motorcycle jackets and order via our web store www.RhinoLeather.com.au
You'll get a much better deal if you are a member of a motorcycle club. Get your club secretary to sign up for exclusive Club Rhino discount program by simply fill out this form http://www.rhinoleather.com.au/club-rhino/ and get great discount on our jackets.
If you need more help in choosing the right jacket, contact our expert sales team on 0481 306 555 or email them at service@rhinoleather.com.au