9th Mar 2022
We are all aware of and celebrate pioneering women as they create trails across the most male-dominated of fields. Females have typically been eclipsed by their XY counterparts in fields such as aerospace, engineering, athletics, and science.
However, the tides are slowly shifting, and women are claiming their rightful position in the world. Women have been riding motorbikes for as long as there have been motorcycles, but female riders have been few and far between.
On two wheels, a few of women have shattered glass ceilings.


Adeline (1884–1959) and Augusta Van Buren (1889–1949)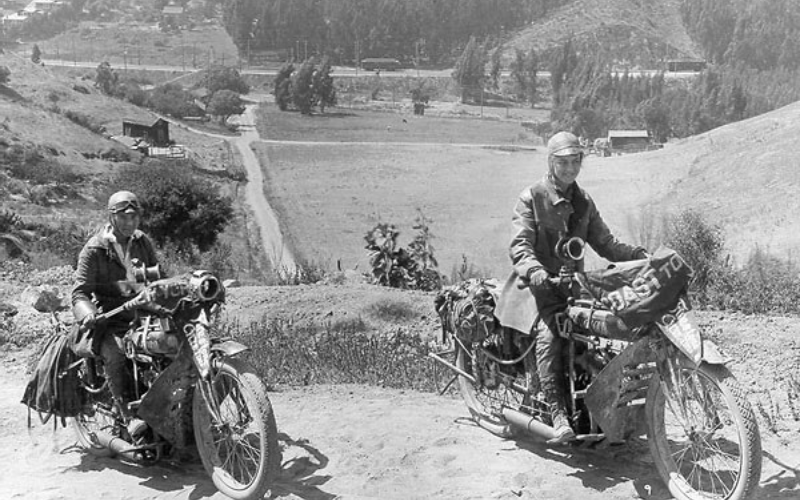 Augusta and Adeline Van Buren, or Gussie and Addie as they were called, were 32 years old and prominent in the national Preparedness Movement in 1916. The sisters sought to show that women could ride just as well as men and could serve as military dispatch riders, freeing up men for other jobs at the outbreak of World War One.
On July 4, they left Sheepshead Bay Race Track in Brooklyn, New York, dressed in military-style leggings and leather riding breeches, which were considered controversial at the time, and rode 1,000cc Indian Power Plus bikes with gas lamps. Indians were the most expensive motorcycles of the time, costing $275 and equipped with Firestone "non-skid" tires.
Theresa Wallach (1909–1999)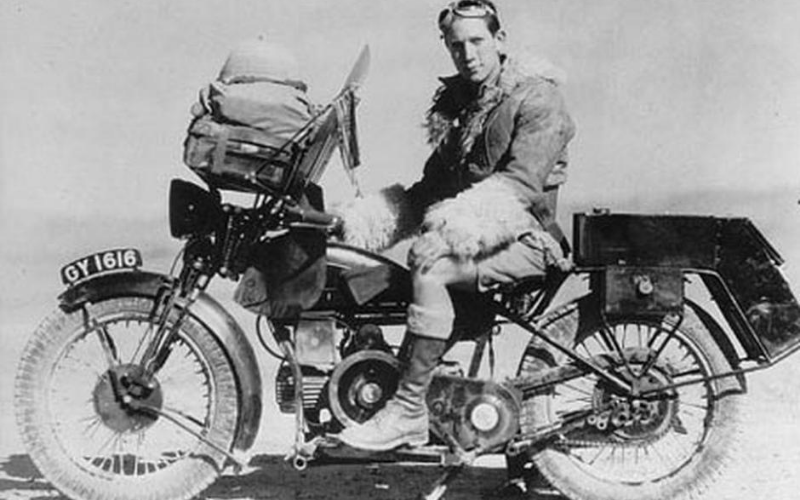 Theresa Wallach was a motorcycle adventurer, an engineer, a mechanic, and an author. She drove a 600 cc single-cylinder Panther motorbike with sidecar and trailer from London to Cape Town, South Africa, in 1935, with another expert biker called Florence Blenkiron, apparently without a compass, traversing the Sahara desert. In 2003, Wallach was inducted into the AMA Motorcycle Hall of Fame as the inaugural Vice President of the Women's International Motorcycle Association.
Beryl Swain (1936–2007)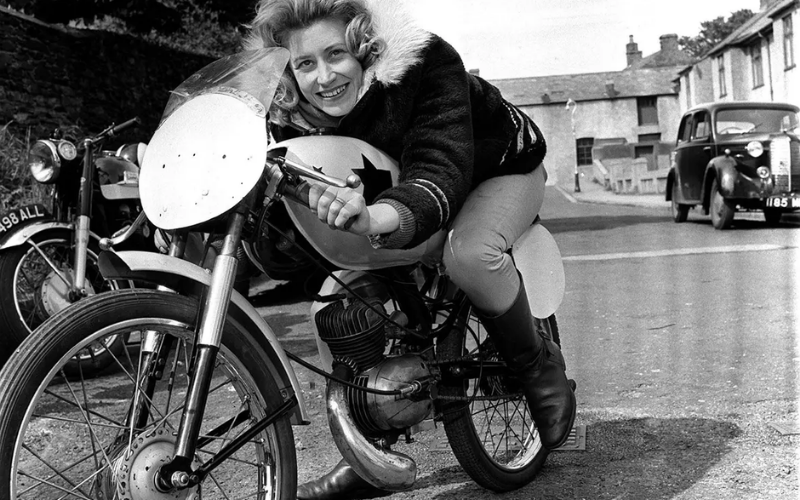 Beryl Swain was a London-based female motorcycle road racer. In 1958, she married Edwin Swain, the proprietor of a motorcycle business.
She made history as the first solo woman to compete in a TT race on the treacherous Isle of Man TT track, a once-in-a-lifetime occurrence on one of the world's most famous closed public road races. Due to the reputation of the sport being too hazardous for women, the male-dominated world of motorcycle racing revoked her international permit by introducing a minimum weight requirement, which she did not fulfill, and the ensuing ban on female entrants continued until Hilary Musson entered in 1978.
Swain, who had previously worked as an office worker, began a retail career at Sainsbury's food shops in the London region when her racing career was cut short.
Anne-France Dautheville (1944)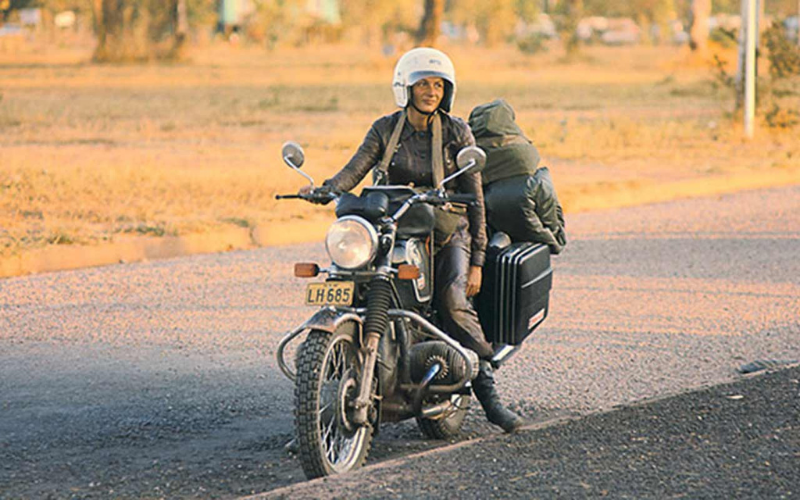 Anne-France Dautheville is a journalist and author from France who is most known for becoming the first woman to ride a motorbike solo around the world.
Dautheville was born and raised in Paris. She took part in the Orion-Raid motorcycle expedition in 1972, riding a Moto Guzzi 750 alone from France to Isfahan, Iran, and then on to Afghanistan. She was the first woman to ride a Kawasaki 125 around the world solo in 1973, spanning 12,500 km across three continents. She worked as a freelance journalist at this period and supported herself by writing about her trips. She traveled throughout the world till 1981.
Elspeth Beard (1959 )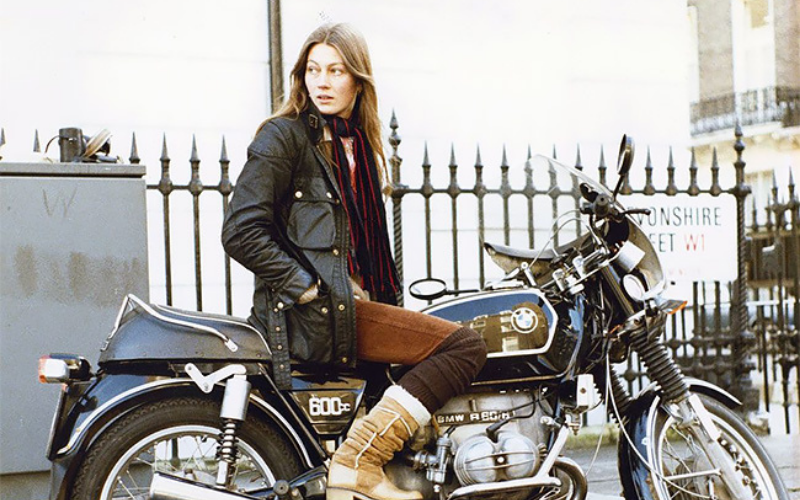 Beard learnt to ride a motorbike on Salisbury Plain at the age of 16. She began her round the world journey in 1982, after the third year of her architect training course, using a BMW R60/6 motorcycle. She began her journey in New York City, having shipped the bike from the United Kingdom. In Sydney, she spent eleven months working as an architect, before cycling across Australia. She arrived back in the United Kingdom in 1984, having travelled 48,000 miles (77,000 km); in doing so, she became the first Englishwoman to motorcycle around the world.
Later, she rebuilt Munstead Tower in Godalming, earning the South East England prize from the Royal Institute of British Architects in 1994. Beard currently runs an architectural practice in Godalming, which is housed in a converted stable.
Getting Ready for Your Trip
With the increasing number of women participating in motor sports, both competitively and recreationally, more and more gear manufacturers are ensuring that their goods are tailored to the build and proportions of female riders. Take a look at this women's motorbike gear. There's something for everyone, whether you're new to the game or simply seeking to update your gear.